Ah, the calm before the Turkey storm. :)
Sad news today: I broke a nail! I was grabbing laundry out of the basket, and my nail hit the side and snapped off! It broke really short and is somewhat painful :/.
Anyway, I made some quick Thanksgiving nails.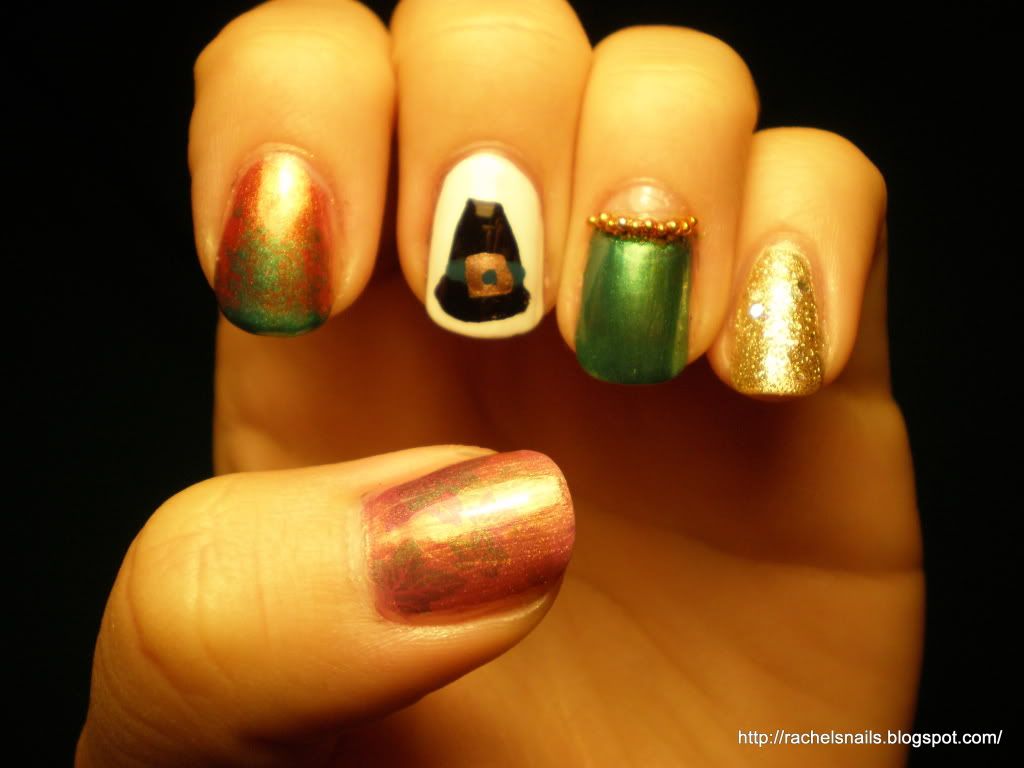 I used:
Thumb: 2 coats of NYC Wing It Wine and then stamped some faint leaves on it with Bundle Monster plate BM04 and Wet N Wild Caribbean Frost.
Index: Two coats of Forever 21 Orange and I sponged on Wet N Wild Caribbean Frost with a nail art cotton square. I then painted my tip with Caribbean Frost.
Middle: I used 2 coats of Ulta Snow White and painted the pilgrim hat on with Wet N Wild Black Creme, Forever 21 Dusty Blue, and China Glaze HI-TEK.
Ring: I used Caribbean Frost for the moon mani with balls from eBay.
Pinky: I used 2 coats of Essence Gold Rush and 3 coats of Wet N Wild Fireworks.
It was rushed but I think it came out okay.
For those of you celebrating Thanksgiving: Share some Turkey with your Turkey-tine (like a valentine but.. yeah. :) ).