Since I received my Crackles a couple days ago, I've been trying to swatch them. Crackle swatching is time consuming! It's not like a normal polish I can paint on and wait until it's dry enough to photograph. Crackles need to be painted over dry polish. I am not that patient so I've just been doing a crackle everyday over my mani. I swear I'll have swatches up soon!
Until then I have some random glitter polishes to show you.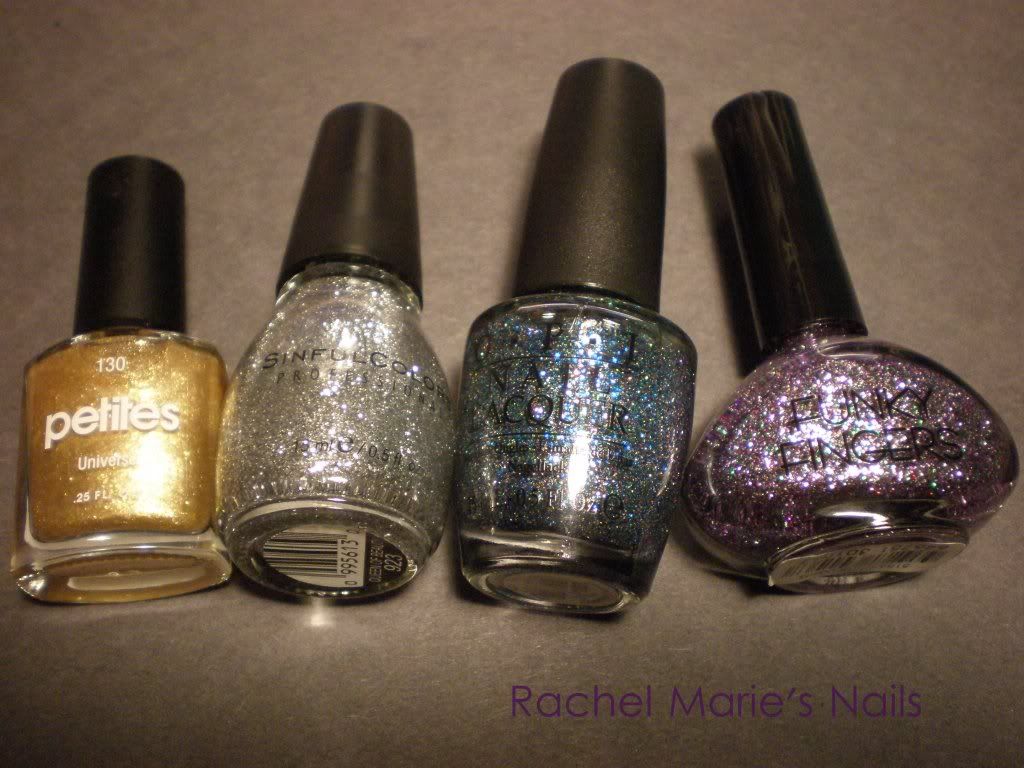 Petites Universe, Sinful Colors Queen Of Beauty, OPI Simmer & Shimmer, and Funky Fingers Icicle Lights.
This is 3 coats of Petites Universe.
Petites Universe is a gold glitter polish that has a metallic finish.
I wasn't a big fan of these polish. It was very thick but sheer at the same time. I had issues with application.
You can't see it here, but there are actually little bits of glitter in this polish
This is 3 coats of Sinful Colors Queen of Beauty.
Queen of Beauty is a thick silver glitter polish.
I'm not a fan of Sinful Colors polishes on their own. They tend to have really wonky formulas. A lot of their polishes are too sheer or too thick for me work with.
This is the glitter I used in my Starry Starry Franken. I think I'm going to stick to using this glitter just for frankens.
This is 3 coats of OPI Simmer And Shimmer.
Simmer And Shimmer is a glitter polish that contains blue, silver, yellow, and pink glitter. At least that's what I can see. It's pretty opaque.
And this is how one ends up with the glitter herpes.
How awesome does it look here?
This is 3 coats of Funky Fingers Icicle Lights.
Icicle Lights is a multi colored glitter polish that looks purple. It's supposed to be a dupe for OPI Mad As A Hatter. I don't have MAAH, so I can't say for sure.
These polishes are available at some stores called "5Below". Theres no stores like that by me, so I bought this bad boy on eBay.
This polish was pretty opaque as well.
I'm pretty tired so I'm off to take a nap!