Did anyone else wake up later than usual today? I blame the time change. My grandma recently got a call from our relatives in Japan saying everyone was alright and the only casualty was some broken china. Now, there is a fear after a leak in a Nuclear plant. And the worrying continues.
Today I have some random swatches of OPI polishes. I really don't think I have a whole lot of OPI polishes, except from the Designer Series. So recently I picked a few up to try out.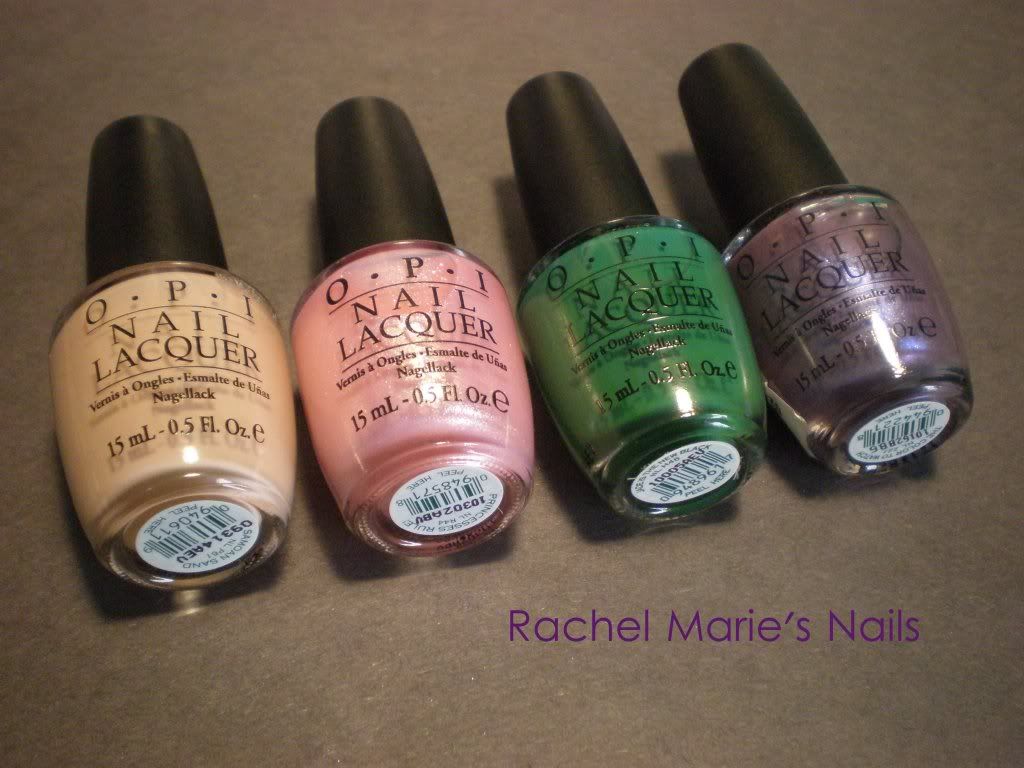 Samoan Sand, Princesses Rule!, Jade Is The New Black, and The Color To Watch.
This is 4 coats of Samoan Sand.
I think this shade *might* be discontinued. Usually when they start clearancing a color out- that's what it means. Correct me if I'm wrong!
I better stock up on this polish.
This is 2 coats of Princesses Rule! Over Samoan Sand.
Princesses Rule! is a sheer pink polish with light blue and pink micro glitter. Everything about this polish goes against what I like. First of all, the name is so cheesy. Second, it's super sheer.
This polish is so soft and gorgeous though. You can't help but love it for what it is.
The blue micro glitter was almost impossible to capture.
This is 2 coats of Jade Is The New Black.
Jade Is The New Black is a jade green creme. It's gorgeous.
It looks squeaky shiny here.
This is 4 coats of The Color To Watch.
The Color To Watch is a sheer purple polish with blue and purple shimmer.
It is pretty and almost has a metallic hue about it, but it is also very sheer. I haven't tried layering with this one yet.
You can see bits of the blue shimmer here. :)
I really do like OPI polishes. I think they are a great brand. Some of their collections are incredible and have amazing polishes. I'm not a big fan of the pro wide brush but I don't hate it either.