I decided awhile ago I wanted to make a franken FAQ post. I'm not an expert on frankening and I am definitely not claiming to be one. I have, however, made quite a few frankens and I feel I can help answer some questions.
Forgive me for some of these photos. This blog is a one woman show and taking pictures of the frankening process was a bit hard!
What is A Franken?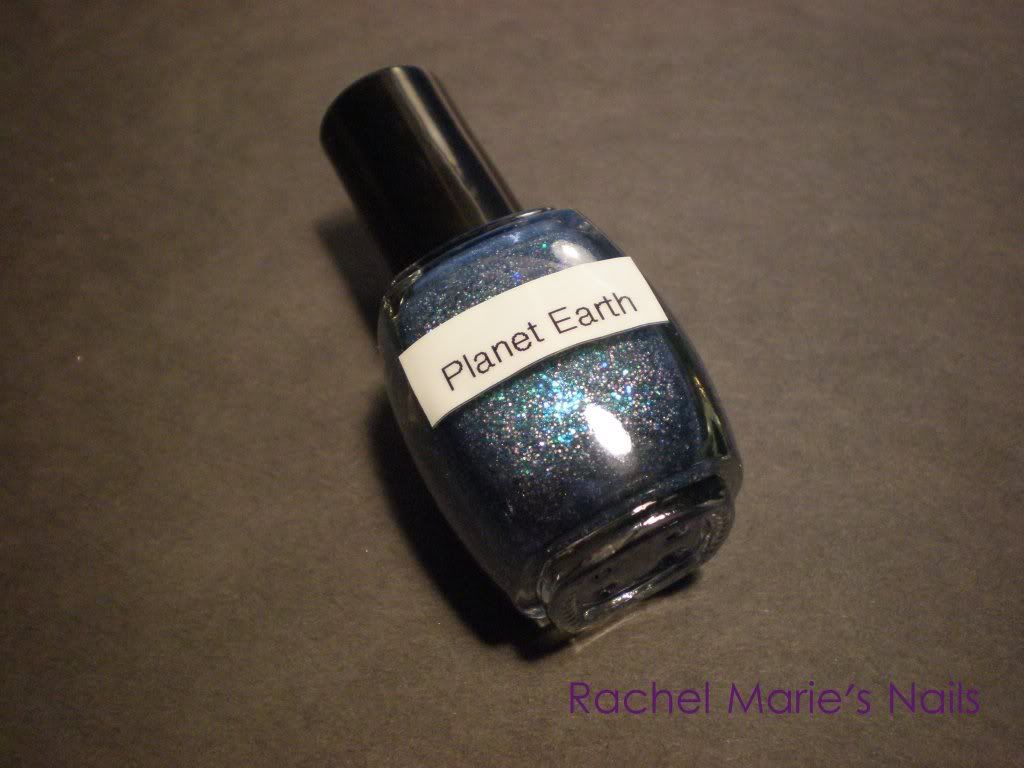 One of my frankens, Planet Earth.
A franken is a personalized mixture of nail polish. It can also include glitter, pigments, eye shadow, or clear polish. The point is to create a unique polish that isn't available to you or to replicate another polish. Or sometimes the point is you're bored and you want to see what happens when you mix some glitter with polish.
How Do You Franken?
If I have an idea of a franken I already what to make, such as a dupe for Essie's Starry Starry Night, I will try to pinpoint the ingredients I want to use. If you are trying to replicate a certain nail polish, break it down. You need to ask yourself: What polishes can I mix together to make something similar? Does it have glitter? What shape/color/finish is the glitter?
If I'm just creating something unique, I often pull out polishes and see what goes good together. I write down my recipes for my readers, in case anyone else wants to replicate as well.
And if it doesn't come out the way you want it to- remember frankening should be fun. I've created a lot of Franken Fails.
What Do You Need For Frankening?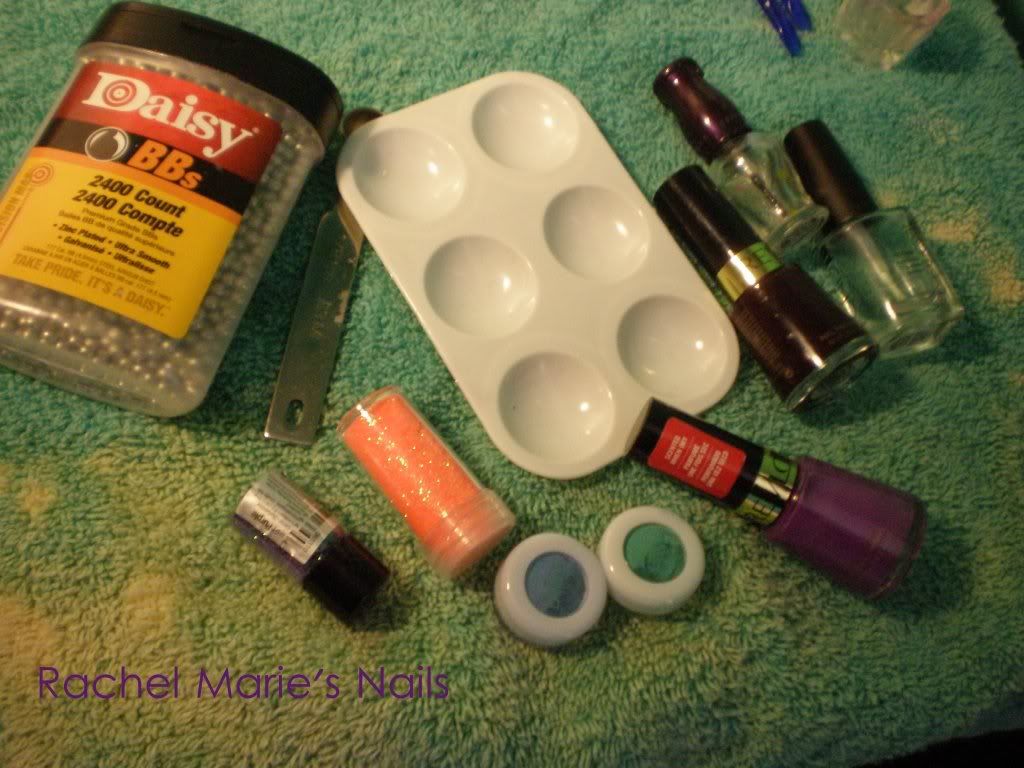 Some of my frankening supplies.
You will need balls, a palette, polish, empty bottles, glitter, pigments, and a measuring spoon for glitters/pigments.
You might also need: clear polish and a funnel to get glitter into the bottle. I also lay down a rag towel down to keep messes from happening.
What Kind Of Polish Can I Use?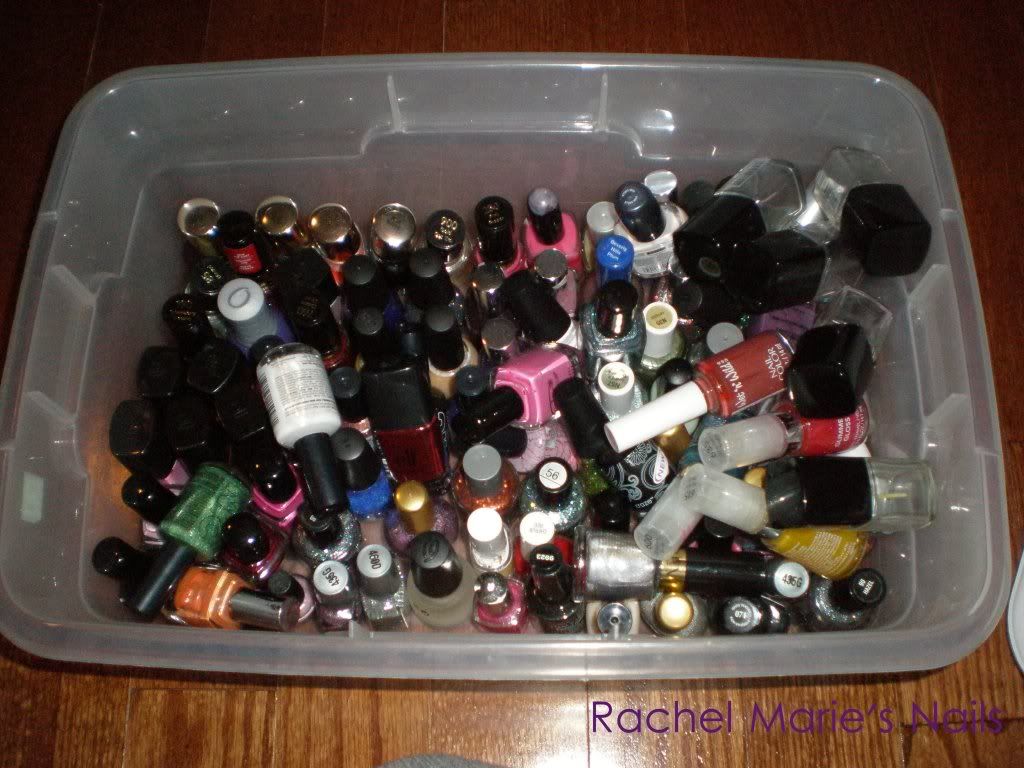 My box of polishes for frankens.
Anything you want! I tend to use lower end stuff because I don't want to waste expensive or higher end polish. On occasion, I also buy polish in lots on eBay. Another good place to find polish to make frankens is The Dollar Tree. Sometimes The Dollar Tree has drugstore polishes for very cheap.
What Are Some Brands That Mix Well Together?
I haven't come across brands that haven't mixed well together, per se. I've had really great frankening experience with Wet N Wild.
What Kind Of Balls Should I Use?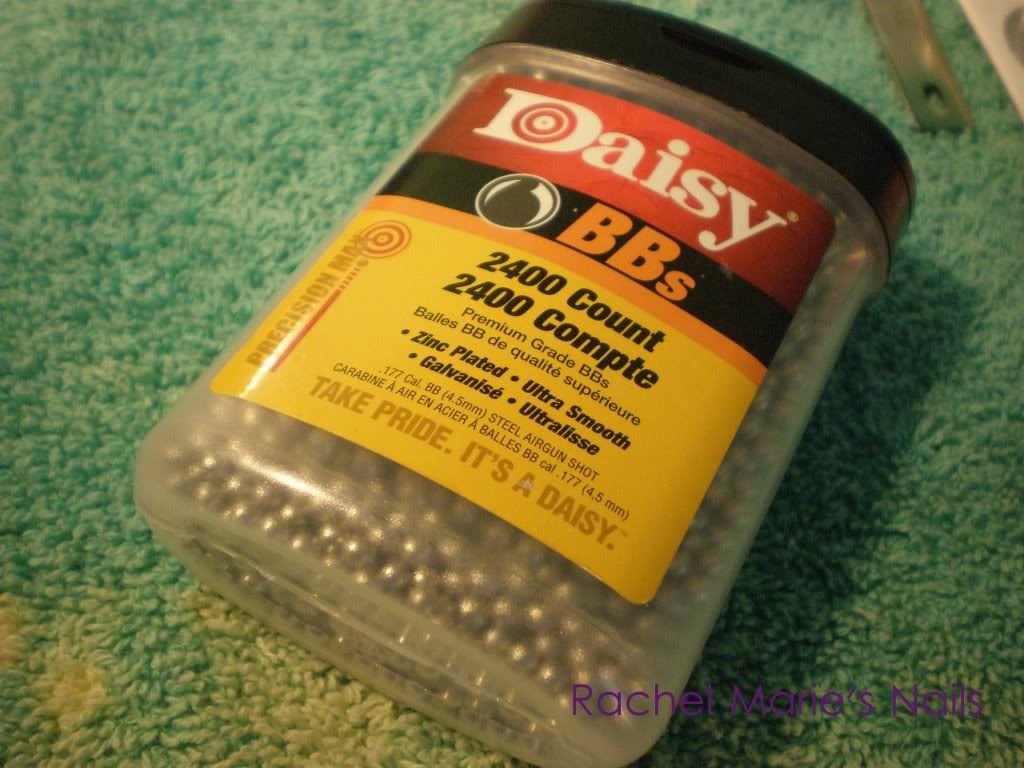 The balls I use.
This is a question of great debate! I use plain steel BB's from Walmart. But there is some debate over if the Zinc coating with corrode your franken.
See- it says Zinc Plated.
I've never had this happen to me. I check my frankens regularly and they're fine! If you are concerned you can use steel barrings from a bicycle shop or I believe
TKB Trading
has some.
Tips For Creating A Holographic Franken?
This is very subjective. But basically- you need to start with a holographic base. I like to use Sally Hansen Diamond or Purple Diamond. I bought these at The Dollar Tree and also in a lot on eBay. Basically, start with your holo base and work from there.
Does Frankening Waste A Lot Of Polish?
If you are spilling it everywhere- yes! I rarely spill, though. I've created a lot of "franken fails" that just didn't work out and turned out ugly. I've also wasted a ton of polish that I used to test glitters to see if they would melt. But this is again, why I stick to cheaper polishes.
What Do You Suggest For Beginners?
Play around! Experiment and have fun.
How Do I Make A Glitter Franken?
This is something I hear all the time on MUA: "A made a glitter franken but the glitter sank to the bottle of the polish". It's even happened to me. Now, I know the trick.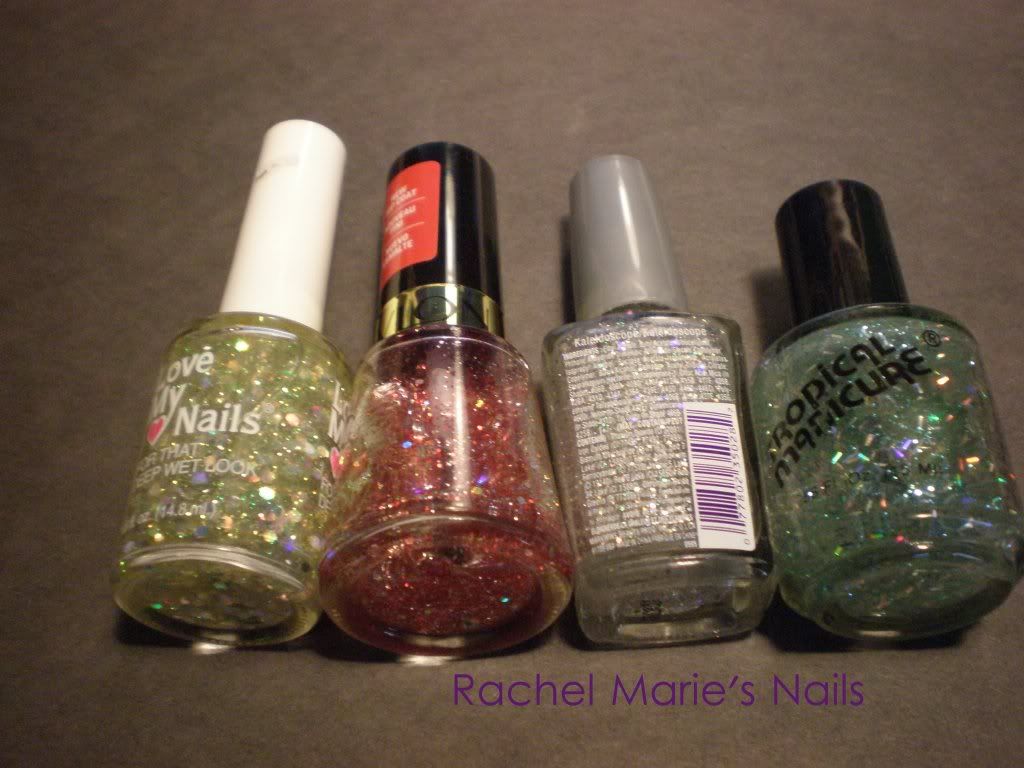 Examples of glitter suspension polishes.
You need to start off with a suspension base. The best examples of this is something you probably already have- glitter polish! The polish is made to "suspend" glitter. I believe you buy the base itself from TKB Trading, but I haven't tried it myself. It seems kind of pricey.
I also hear a lot of : "What kind of glitter can I use?"
This is a hard question to answer! I have no idea what kind of glitter is available by you. I can tell you the glitters I have used myself but I can't tell you if the random glitter from your local craft store will work.


Examples of some glitters I've used in frankens.

Glitter is a lot of trial and error. The best way to test glitter is to mix some with your suspension base and let it sit over night. It will usually turn into a brown mess pretty quickly if it's going to melt. I've used a lot of cosmetic glitter that did not melt in frankens but I've also had really good experience with glitter from The Hobby Lobby.




Okay.. So now you have your glitter but how do you get it into your franken.




Start by pouring your suspension base into your empty bottle. You can see there isn't a whole lot of technique to this part.






Fill your bottle depending on how much glitter you want to add.






Next I took a piece of paper and cut it into a rectangle(ish).






And tape it together and you have a little funnel. They also sell plastic funnels at craft stores and Sally's but this is the lazy, cheap way. :P






Next, set the funnel into your bottle like so.






Measure out the glitter you want to add. I always use a 1/8th teaspoon because it's so tiny it fits right into my funnel.






Pour the glitter into your bottle.